DIY Fence Installation Mistakes
A new fence -  it doesn't seem like it will be too difficult to complete on your own. You drive to the hardware store and get your materials - posts, pickets, rails, nails, but what now?
The installation itself can be intimidating if you are not experienced with this type of work. Questions swirl around in your head, and you begin to doubt yourself...
But the doubt can stop now! At Paramount Fencing, our #1 goal is to EDUCATE the customer. We have buyer's guides for any fencing material. We have advice, Q&A's, and of course- our support.
Take a look at some of the most common DIY Fence Installation Mistakes, and if you still have questions or need help, give Paramount Fencing a call. We are here for you.
1. Not Knowing Local Building Requirements
Know your municipalities building code prior to beginning an install. Research setbacks, easements, and fence requirements. Check if you have an HOA- many times they only allow certain styles of fence to be installed. All of these factors will need to be taken into consideration when applying for a permit. Building a fence that is not permitted and does not meet building requirements can result in fines, or need for a full replacement.
2. Ignoring The Style Of Your Home
Homes are built in different styles- Victorian, Ranch, Colonial, etc. Know your home's style before committing to a fence style. Take a look at your yard, do you have landscaping and lawn ornaments? Will those match the new fence? You don't want to install a fence that will clash with the current style of your home.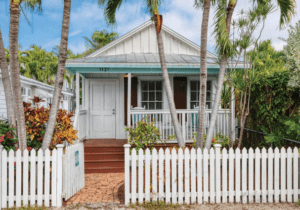 3. Blocking Views
Many people want privacy fences, but end up disappointed when they can no longer see the lake or wildlands they just blocked. Be sure that you want to block those views before installing a fence. Blocking a neighbors view can also cause issues if you live within an HOA.
4. Incorrect Installation
Remember, not every fence is built the same. Fencing techniques used in the Midwest are very different than the techniques we use in Florida. Be sure to know your land when installing. Installation techniques differ based on geographical locations as well as fence materials. Learn how to set your posts, the posts are where most of the strength for your fence comes from. Check out our Buyers Guides for more information on fence materials.
5. Lack Of Planning
Know where the fence is going before you begin your installation. By this time, your permit should have already been submitted and approved. Be sure to follow the plans you drew up for the permit. Call 811 to have the utility lines in your yard marked.
6. Using Budget Materials
Using cheaper materials may initially save you a few bucks, but will cost you more in the long-run. Cheaper building materials are often lesser-quality or are not pressure treated. A budget fence may last a few years, but a fence built right using quality materials can last up to 20. You get what you pay for.