Alumi-Guard Aluminum Products
Paramount Fencing is proud to be Alumi-Guard's Central Florida stocking distributor.  Alumi-Guard products are durable, attractive, and there is no fence and rail system that's superior or can match Alumi-Guards powder coating system: not one.
Simply put, there is no competition when it comes to quality.  Alumi-Guard's powder coating system is rated for 10,000 hours of extreme weather and saltwater corrosion.  So it does not matter if it is Orlando or Daytona, salt or brackish waters, Alumi-Guard is ideal for the Florida Climate.
It is endorsed and compliant with the American Manufacture Architectural Association (AMAA Standards 2604-13). Alumi-Guard aluminum products are made by Floridians for Florida. Alumi-Guard backs up their powder coating with a 30-year warranty.
How to Order
IMPORTANT: Aluminum fence panels are manufactured in  6′ in length sections.  Therefore the posts are approximately 6 feet apart from one another.  When figuring out the exact amount of sections and posts needed, use the following Formular: (Stretch Measurement dived by six feet=number of panels).
To calculate your necessary materials, follow the guidelines below:
 Know where your fence is going and keep yourself organized before you start calculating. Simply, draw the general shape of your house on a piece of paper.  Draw a line where the proposed fence will go.   Now measure all proposed areas where there is a line.  In the fencing industry, we refer to these lines as stretches.  Each stretch has a measurement. Write down the stretch measurement of the drawing.   If you are fencing in your full yard, measure all stretches: Front, both sides, and the back property line.
Take your total footage (ex. 150 linear feet) and divide by 6 (the result of this example is there are approximately 25 panels) Should ever end up with a decimal result, it will be necessary to round up. It does not matter if you if it 5.1 panels need.  Roundup.  We always recommend adding a panel or two to your order.
It is wise to calculate each individual stretch and write the result on your hand-drawn plan.  You will need it when determining the types of posts.
Now use the individual stretch measurements to calculate your posts. There are 4 post types available. Line posts, end posts, corner posts, and gate posts. They are how they sound.  Where the fence line terminates, an end post would be installed. A corner post would be needed where two fence lines connect at a 90 degrees angle. Line posts are used between panels. There is one line post every 6 feet.
Another way to look at it is, that every post needs a panel.  Each stretch begins with a corner post or an end post. Then a panel is installed and a line post is added. This continues until you reach the end of the stretch.  You will need a corner post or an end post at the end of the stretch.  See the drawing below for an example of how to calculate your posts.
Read our the Ordering and Return Policies Prior Ordering.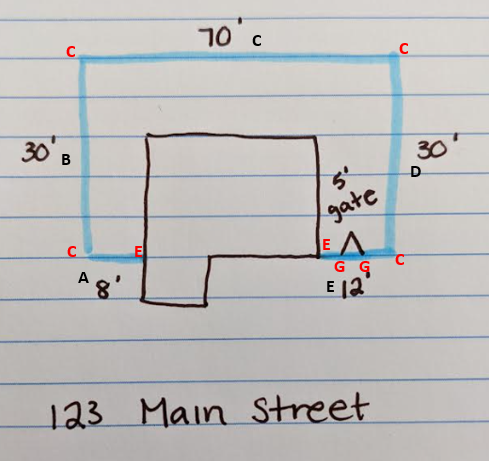 Material Example Based on the Above Drawing
We have 150 total linear feet to fence our yard in this example. Dividing this by 6′ on center panels (and adding 1 extra for good measure) tells us we need 26 panels. You will always need one more post than panels (unless gates are elected, every gate needs 2 gate posts)
Note: End, Corner, and Gate posts are marked on the example in RED.
Starting on the left and moving clockwise, we will need:
A – 8′ Stretch: (2) panels, (1) end post, (1) line post, (1) corner post
B –  30′ Stretch: (5) panels, (4) line posts, (1) corner post
C –  70′ Stretch: (12) panels, (11) line posts, (1) corner post
D –  30′ Stretch: (5) panels, (4) line posts, (1) corner post
E –  12′ Stretch: (2) panels, (2) gate posts, (1) end post
For a total of 26 posts PLUS 2 gate posts.
Residential Grade Aluminum
A residential Grade Aluminum fence is the most commonly installed aluminum fence in a Central Florida residential setting.
1-1/8" x 1" rail
5/8" x 5/8" picket
6' wide panels
2" posts and 2-1/2″ gate posts
Available in 2-rail or 3-rail options
Available in 4′ or 5′ high panels
Commercial Grade Aluminum Fence
Commercial Grade Aluminum is another very popular choice for Central Florida. It is more reinforced than its competitor, residential grade.
Commercial Options:
1-1/4" x 1-1/4" rail
3/4" x 3/4" picket
6' wide panels
2" posts and 2-1/2″ gate posts
Available in 2-rail or 3-rail options
Available in 4′ or 5′ high panels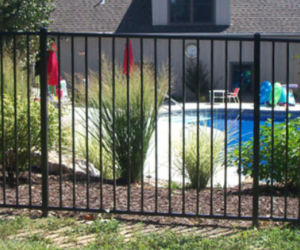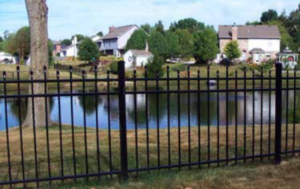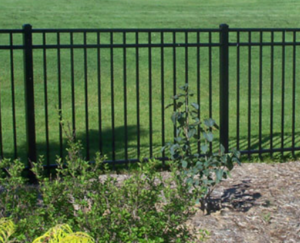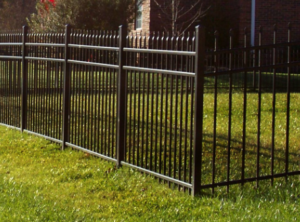 Pool Code
Below is a guide for pool code-compliant aluminum fencing. If you have an open and exposed pool, fences must pass the pool code on an inspection in any municipality. Understand, getting the right aluminum fence when a pool is involved makes all the difference.  A record number of children (205) drowned in 2019 right here in Florida.
Pool Code Compliant Options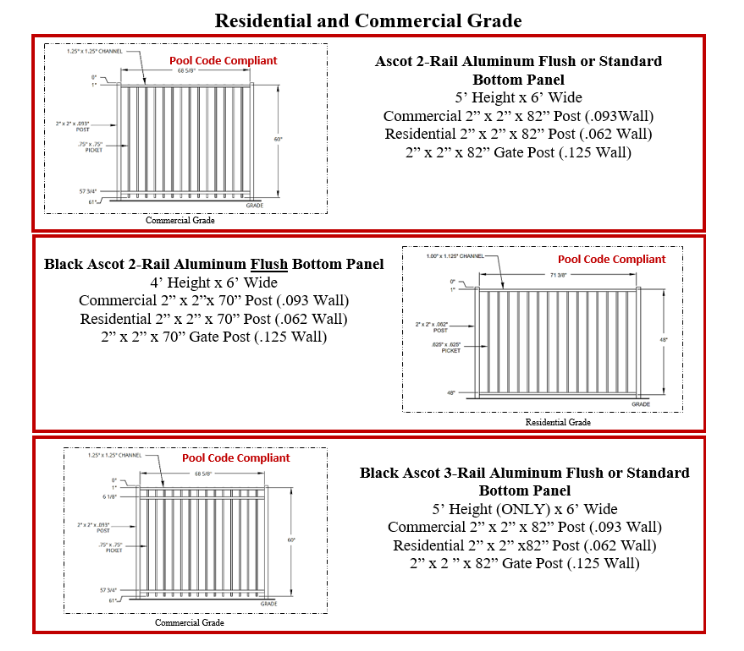 Ready to order? Follow the link below:
Alumi-Guard® meets the stringent requirements as an Approved Applicator. Our award-winning coating process surpasses 10,000 hours in a salt spray test chamber (per ASTM B-117), which is three times greater than the 3, 000 hour minimum per AAMA 2604-17a specifications.
Durable, scratch-resistant powder-coated aluminum fence and gates which are naturally corrosion resistant, and provide long product life cycles with low maintenance
Since powder coating does not use solvents or chemicals like liquid paints, the process releases fewer pollutants into the air and leaves a smaller carbon footprint. Through the ability to reclaim and reuse over-sprayed material — unlike excess liquid paint that needs to be disposed of —the powder coating process generates no hazardous waste. Powder coating reduces CO2 emissions by up to 60% compared to liquid paint.