Aluminum Fencing - Two Things to Consider
An aluminum fence is cheaper than wrought iron. Aluminum fencing systems in the State of Florida require less maintenance and are resistant to corrosion caused by soil, water, and lawn chemicals.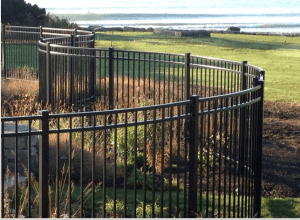 We at Paramount Fencing wish it was as easy as sitting down and selecting a fence style; however, it's not that simple.  This is Florida.  It does not matter if you live in Winter Park, Oviedo, Winter Springs, Orlando, or Sanford.  Failure to educate yourself about an aluminum fence is a sure way to waste your time and money.  Before installing a beautiful black aluminum fence in your yard, we are going to encourage every homeowner to read Paramount Fencing's Aluminum Buyer's Guide Florida.  It's free and will save you thousands of dollars and hours of unwanted aggravation.
The buyer's guide will show you the most common mistakes and the most common misconceptions when purchasing an aluminum fence.  It does not matter if you go with Paramount Fencing or go with someone else.
For more information read the Buyer's Guide:  Aluminum Fencing. There anyone can find the necessary information to make an educated and informed decision.
Alumi-Guard Fencing Systems
At Paramount Fencing, we believe in Alumi-Guard aluminum products. We are an Alumi-Guards stocking distributor as well as an Alumi-Guard installer. Alumi-Guard products are durable, attractive, and there is no superior fence and rail system that can match their powder coating in today's market.
There is no competition when it comes to quality.  Alumi-Guard's powder coating system is rated for 10,000 hours of extreme weather and saltwater corrosion. It endorsed and compliant with the American Manufacture Architectural Association (AMAA Standards 2604-13). Alumi-Guard aluminum products are made by Floridians for Florida.
Every Alumni-Guard Fence is manufactured in the USA and right here in Florida. So. Every dollar spent stays right here in Florida. Alumi-Guard backs up their powder coating with a 30-year warranty. If that black fence excessively and quickly fades, they will warranty it. Ask that from other manufacturers and they'll say, "no can do". When they do, realize that the aluminum fence getting ready to be installed will look like a Florida Black Snake shedding its skin within six months.
Before you spend that hard-earned money on another aluminum manufacturer such as Antebellum, Ameristar, Elite, or Idea aluminum, come let us show you why Alumi-Guard is the best.
Select From the Many Styles Below
When we think of aluminum fencing, we think of an aluminum picket fence surrounding swimming pools, or the stong aluminum picket fence guarding our animals against the gators in the lake. But an aluminum fence has much more to offer than a simple picket fence solution.  Aluminum privacy fences are often used by theme parks for privacy or security applications and sometimes are used to keep agricultural animals in their pasture. Regardless of the application, an aluminum fence is used for one reason:   Durability + Longevity = Great ROI.
Call Us Today For A Free Estimate: 407.341.2720