If you're thinking a wood fence is just a wood fence, you'are setting yourself up for failure.
In 2004, the EPA banned the use of Chromate Copper Arsenate (CCA) as an outdoor lumber preservative for residential applications. The Lumber preservative changed to Alkaline Copper Quaternary (ACQ). It failed miserably. Then came Micro Copper Azole (MCA) and EcoLife (E2) in late 2007. Overall, both performed very well with one exception: Ground Contact.
Simply Put, these two type of pressure treatments are susceptible to fiber eating microbial in wet weather environments. The reason is the absorption of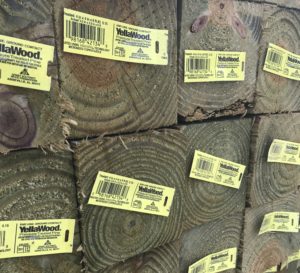 groundwater made the lumber swell and dry forcing out the very thing meant to protect it. Also, know as leaching. MCA was more susceptible to leaching because of its particle-based approach were as EcoLife was less susceptible to leaching because it solution based. EcoLife was also packed with wood polymers and stabilizer whose sole function is to reject water. Hence, a lot of market confusion.
So began the race to find the cure for fungal decay and rotting at ground level. The two major chemical producers, Viance and Osmosis, created two different solutions. In 2015 Copper Azole Type C (CA-C) and Particularized Copper Azole Type C (pCA-C )was introduced. Then began the battle for control of the American Wood Protection Association (AWPA) standards. Both companies slugged it out. There are twelve new classification codes for pressure-treating was created to eliminate market and industry confusion. They clearly state what the intended end use categories.
Now here is the Rub, there are still fifteen different types pressure treating chemicals being used in today's marketplace which are approved for residential use. Each must fit into a 12 end-use categories system.
"A wide variety of fungi and insects can attack wood. In addition, there are different levels of exposures, ranging from protected/covered, to fully exposed, to immersed in water. It's important to match the appropriately PT product to its intended use." Viance.
None of our competitors will tell you this information, and some will say, "We are crazy." But just look around your neighborhood and chances are you will see the three distinct problems hard at work.
So don't be the homeowner that gets mesmerized by the likable salesperson or discount fence company. If you do and they use the wrong fasteners and pressure treating code, the pickets will separate from the runners within 12 months, the framework will separate from the posts within 36 months, and that beautiful fence will warp itself apart and those pickets will rot within 5-8 years. Simply put, that new wood fence will become nothing more than a Popsicle stick experiment.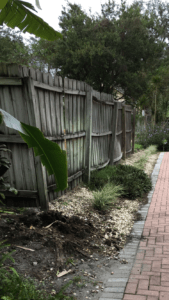 These are real problems that can occur with pressure treated wood fence but do not get discouraged. These problems are problems are preventable.
We cannot stress this enough: It is now more important than ever to understand the intricacies of pressure-treated lumber and the manner in which wood fence is constructed. We highly recommend that the homeowner read our comprehensive guide to purchasing wood fences prior to scheduling a single estimate.
s are correctable if the fence is built properly. The good news is we conduct testing every year and our building methods have been designed to counter these distinct problems and ensure that wood is still a viable option which can last 12 -15 years.
So take the time to educate yourself, and don't become the victim. Remember, as the old saying goes, "An ounce of prevention is worth a pound of cure."
Paramount Fencing is currently customizing wood fences in the following Orange & Seminole County Cities: Waterford, Windermere, Oviedo, Orlando, Winter Springs, Lake Mary, Sanford, Winter Garden, Ocoee, St. Cloud, Winter Park, Casselberry, College Park, Clermont, Maitland, Longwood.
Ground Contact Versus Above Ground Contact