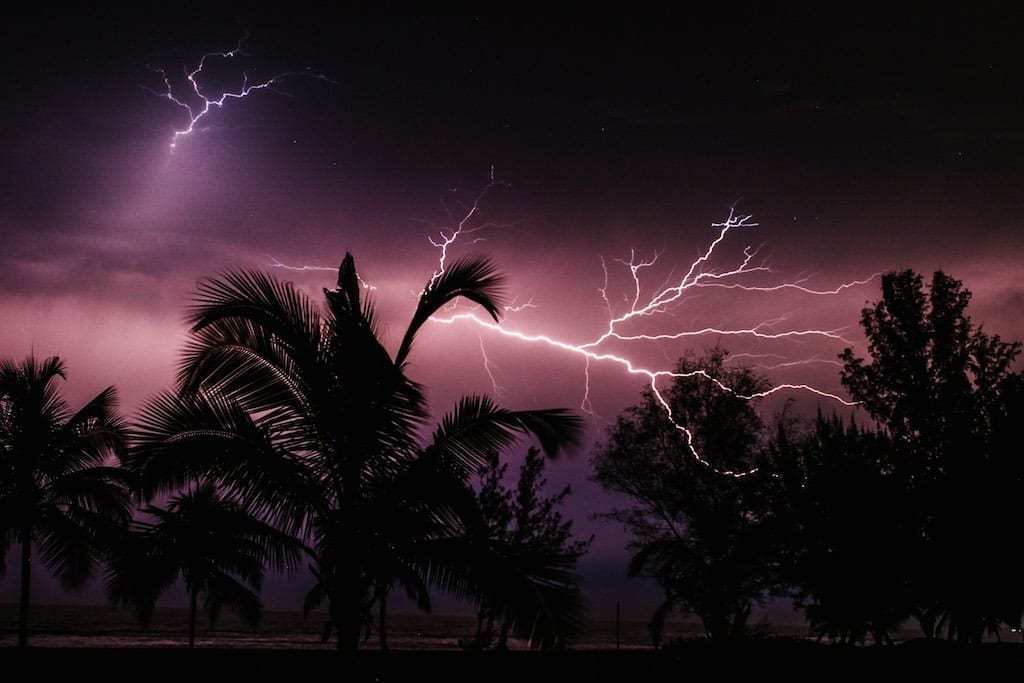 Inclement Weather
Florida has two main weather seasons, a "dry" season and a "wet" season.
The wet season lasts about 5 months and stretches from late May to mid-October. During these months, it's common to see a storm daily. 61% of Florida's annual rainfall takes place during this period.
These heavy rainfalls can often delay fence projects- much to the customer and company's dismay. These delays are caused mainly by 2 circumstances- heavy rainfall and lightning.
During the wet season, it is not uncommon for yards to flood. If the ground conditions are too wet to dig, installations may be delayed.
Lightning is a pretty common cause of fence damage- and damage to the home as well. A lightning strike to a fence can travel to the house. In some cases, homeowner's insurance will pay to cover the damage of a fence. This is why it's important to be sure that your fence is attached to your home. if it's not, pick up an L-bracket from your local hardware store and affix it. Homeowner's insurance will not cover a detached structure.
Florida is the number 1 lightning capital of the United States, accounting for 16% of annual lightning fatalities. Thunderstorms always include lightning, so any time you hear thunder, the installers cannot be working.
While a person outside during a thunderstorm may not be directly struck with lightning, there are many ways they can be struck:
1. Side Flash: Lightning strikes a taller item near the victim and a portion of the strike jumps to the victim
2. Ground Current: Lightning strike travels from the object originally struck through the ground. This method often kills livestock.
3. Conduction: Metal does not necessarily "attract" lighting, but it does provide it a path to follow. Lighting can travel extremely far after a strike. During a thunderstorm, do not touch anything metal, including metal wiring. The CDC has also confirmed that lightning can travel through plumbing, so do not shower, wash your hands, or do dishes during a thunderstorm.
Employees work to OSHA standards, which state that if there is any lighting present, employees need to take shelter. In our case, our installers will get in their cars and wait until 30 minutes past the last clap of thunder heard. Our installers will contact the office in the event of a storm for further instruction. Depending on the radar, they may be instructed to leave for the day.
We at Paramount Fencing understand the frustration of having a fence project delayed- we don't like it either. But the bottom line is our employee's safety. No Paramount Fencing employee will be put in a dangerous working condition just to meet a deadline- that is not the type of company we are.
So, we will apologize in advance for any delays as we move forward. Just know that we will work diligently to install your project promptly. We appreciate your patience in this matter.