Postsavers: Prevent Ground Rot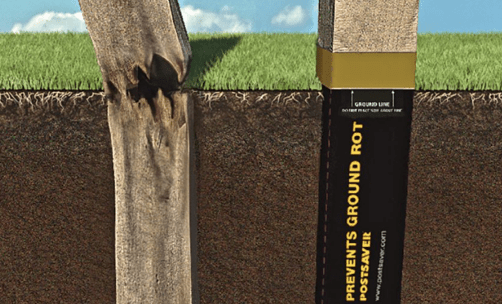 According to the Florida Department of Agriculture and the Florida Forest Service, rot in hardwoods is extremely common and found in all hardwood types in Florida. Rot is caused by fungi, bacteria, or a combination of the two often found naturally occurring in Florida's soil. This post rot is them amplified when paired with setting a post in concrete.
These microorganisms can move throughout whatever host they have chosen and can cause damage anywhere if given the chance to infect.
A tree infected with rot poses a liability for homeowners; if a limb were to rot off and cause any type of damage or harm, the homeowner would be liable for those damaged. Rotting limbs also pose a threat to a residential structure, can damage roofs and knock down fences. Rot is best protected against at the ground level using a Postsaver so that the microorganisms never have the chance to infect the host, to begin with.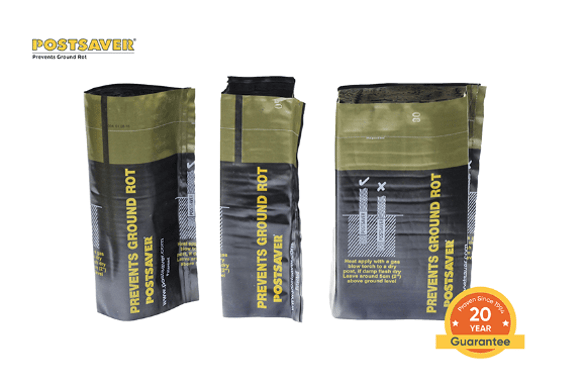 Normal top soil conditions include microorganisms such as fungi and bacteria that eat away at wood, specifically rotting wood. These pests exist normally within the top 5 inches of soil, but not often deeper due to lack of sunlight/oxygen. When applied correctly, Postsavers protect wooden posts from these microorganisms, thus preventing rot and extending your posts height up to 20 years. Postsavers can be used in many construction applications, most notably fencing and decking posts. Postsavers may also be used for wooden telephone posts and even for trees to prevent rot.
Fence Posts: Postsavers can be used on residential and commercial fence installations, as well as agricultural. Postsavers can be used on farm fencing, field fencing, horse fencing, yard fencing, garden fencing, and any other wooden fence installation.
Gate Posts: Postsavers used on gate posts protect the largest posts from rot. Gate posts are a fundamental piece of any fencing project and provide strength and stability. A gate with a damaged or weak gate post is subject to damage itself or will not function properly.
Wooden Decking: Postsavers applied to wooden deck posts protect against rot and help deck posts remain strong and standing. Rotting posts can make decks non-secure and unsafe. Post replacements on decks are strenuous and expensive, as decks need to be unassembled to access and replace rotting posts.
Trees: Postsavers can be applied to saplings or young trees to protect trunk rot. Many young trees are susceptible to truck damage caused by the naturally occurring bacteria and fungi in the soil. Postsavers protect trees from these microorganisms, minimizing the amount of trunk breakage. Postsavers protect in any weather conditions.
Utility Poles: Polesavers are also available to protect wooden utility poles from rot. In many areas, including Florida, wooden utility poles are still made use of. Many of these utility poles can be seen downed after hurricanes or even Florida's afternoon storms, causing damages to property and power outages. Utility poles equipped with Polesavers are protected from rot and are less likely to topple during inclement weather.
Postsavers are a versatile product, able to be used in many different markets:
Forestry: Fencing off large sections of land can help prevent deer and other wildlife from damaging saplings and young trees. Using Postsavers on the fence posts will increase the lifespan of the fence installed. The remote locations of these forests can make re-fencing expensive and difficult.
Citrus Growers: Citrus trees are a huge industry in the state of Florida. Already, citrus plants have many obstacles to overcome before maturing to fruit-bearing age including freezes and citrus greening. When used, Postsavers can eliminate another danger and help citrus fruit growers ensure that their saplings are protected from trunk rot.
Landscaping: Many landscapers will also dabble in fence installation. Postsavers are an easy way for landscapers to ensure that their fence and plant installations hold up against the harsh Florida rains and do not become susceptible to rot.
Farmers: Fence failures can result in lost livestock. Rotting posts can easily be pushed over by livestock. Using Postsavers on farm fence installations can help save money on fence repairs.
Fence Companies: Rotting fence posts mean negative reviews and loss of customers at no fault of the contractor. Postsavers prevent against premature rot on fencing posts, resulting in stronger, longer-lasting installations.
Why Postsavers?
Would you like to not worry about rotting fence posts?  Postsavers come with a 20 year guarantee, ensuring that your fence posts will no experience premature post rot. In the event of post damage during the 20 year coverage window, Postsavers will cover the repair or replacement cost.
Do you like to save money?  Calling a fence contractor out to repair or replace a broken post can cost as much as $600.00 once the service fee/mobilization fee and materials are accounted for. Requesting the use of Postsavers on wooden fence posts protects posts against premature rot. Post damage is one of the most common failure points on wood fences. Posts needing replacement can cause entire fence sections, and sometimes full stretches, to be taken down and re-installed. Homeowners should expect to pay up to $25.00 a linear foot for these re-installations, as well as a trip ticket fee if the work requested does not meet the minimum footage standard.
Do you want your fence protected against inclement weather?   Florida's storm and hurricane seasons often see many fence fatalities. Wood fences protected against rot with Postsavers are less likely to fall or experience damage due to high winds.
Are Postsavers expensive? No! Postsavers start at less than $10.00 per pole, making them a cost-effective alternative to future post replacements.
Interested in Trying Postsavers?
Head on over to The Shop. Paramount Fencing provides Postsavers for post sizes 4" x 4", 6" x 6", and 4" x 6"