Homeowner's insurance (depending on your policy limits) will cover damage to a fence caused by a hurricane/earthquake/storms/etc. Many times, this is only applicable if the fence is an attached structure, meaning that the fence is attached to the home itself. Fencing falls under "other structures" covered on a policy.
Situations
Your neighbor's tree falls on your fence: This will depend on state-specific laws, your insurer may go to your neighbor for payment if the tree was deemed to have fallen due to lack of maintenance/negligence on the neighbor's part. However, if the tree is located on a boundary line and is in both lots, insurance may hold both you and your neighbor responsible for half of the deductible each.
Your tree falls on your fence: If a healthy tree falls on a fence, the homeowner's insurance will cover it (depending on your specific policy) However, if the tree was sick and deemed to be weakened through lack of maintenance/negligence, it will not be covered. Remember, insurance covers accidents only.
The fence is damaged from mold/fungus/termites: The fence would not be covered. Homeowner's insurance covers accidents only. If you are worried about termite damage to a wood fence, consider getting a termite bond with a reputable fence company, but be sure that your wood fence is included in the initial inspection and is not excluded from the coverage of the bond. Wood fences require maintenance to prevent wood rot and fungus, see our tips on how to extend your fences life.
A storm blows down your fence: Homeowner's insurance would cover the damage up to the coverage limits.
A car crashes through your fence: Homeowner's insurance would cover the damage up to the coverage limits, however, you could likely file a claim against the driver's car insurance if they have property damage liability coverage.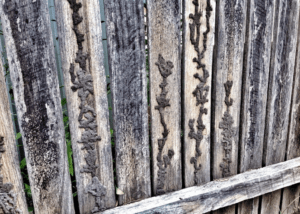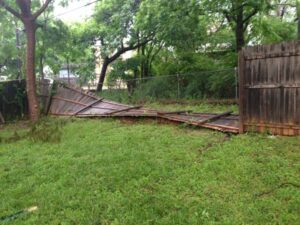 Before submitting a claim for your fence damage, take pictures of the damage and try not to move any damaged sections unless necessary. Call around and have some contractors give quotes for the repair. Decide if the cost of the repair is too high, or if it's worth paying for the repair out of pocket to avoid filing a claim (a deductible is out of pocket anyway) An insurance company may pay to replace your fence, but they will only cover the "actual cash value", so if you've let your wood fence rot and deteriorate, you probably won't be getting much for a replacement.