The Gardener's Corner
During the COVID-19 crisis, we are all looking for a little reassurance. There's no better way to get that feeling of self-sustainability than a fantastic freestanding garden planter! That's right. There is nothing better than fresh vegetables grown with your very own hands. No stores. No exposure. No empty shelves. Just fresh and healthy crispy greens.
Simply assemble the Gardener's Corner, add some soil, and place it outside on the patio or on the grass.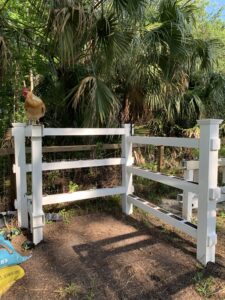 Water it every couple of days, and watch that garden come alive. Watch as tomatoes turn red and ripen in the specially designed Tomato Nook. Catch the fresh aroma of basil and rosemary wafting in the air, or enjoy the crunch of some crispy lettuce.
All it takes is 3 cubic yards of dirt to fill, a few plants or seeds, and minimum water. Let the heavy-duty Eco-Friendly vinyl posts and patterned drainage holes do the hard work. All you have to do is smile and teach kids how they too can farm in such a small area.
Show them how you can grow a 48 sq foot garden in less than 4" wide x 6' long x 54", multi tier Gardener's Corner. The best part is it all can be done for less than $240. Try to create a traditional raised bed garden and it could cost upwards of $650.00.
The great part is there are no more hands and knees. No bending on the ground. No aching back. So get started today.
Only 37 left. Get them while they last. The Gardener's Corner comes in two convenient colors: White or Tan. Pick up only. Delivery may be an option for an additional fee depending on the area.