Paramount Fencing has received many requests to convert a customer's fence to be pool code compliant this summer, and unfortunately have had to deliver some hard news. Many four foot aluminum fences we have seen have had to be removed and re-installed to meet pool barrier requirements. This is because many aluminum fences are ornamental, and their rails fall below the minimum height requirement. At Paramount Fencing, our #1 goal is to EDUCATE the consumer, and we recommend having a fence installed to be pool code compliant, even if you do not have a pool. An ounce of prevention is worth a pound of cure, and having a pool-safe fence could save a life in the future.
What is Pool Code?
According to the CDC, from 2005 to 2014 there have been an average of 3,536 accidental drowning deaths annually in the United States. This averages out to about 10 deaths per day. Of those deaths, about 390 are children aged 0-14, and about 250 are children under the age of 5.
On October 1, 2000, Florida Senate Bill 86 went into effect, which outlined new building code requirements for commercial and residential pools. The Bill covers any structure with water deeper than 24" that is intended for swimming, recreational bathing, or wading.
This lead to the Florida Statutes 515, which now required all new water structures to have at least one pool safety feature.
What does that mean for my fence?
Well, that depends. Do you currently have a pool, or are you planning to get one? If you have a pool, chances are, your current fence is compliant, but there are some steps you can take to check. First, what material is your fence? There are some general requirements for each type:
Aluminum:
48" minimum 2-Rail with flush top and bottom
54" minimum 3-Rail with flush top and bottom
Wood:
48" minimum for privacy style, horizontal runners facing inside, pickets away from pool, pickets maximum of 1 ¾ inch apart
54" minimum for picket style, horizontal runners must be 45" apart, runners facing inside, pickets maximum of 4' apart
Vinyl:
48" minimum for privacy style
54" minimum for picket style, horizontal runners must be 45" apart, pickets maximum of 4' apart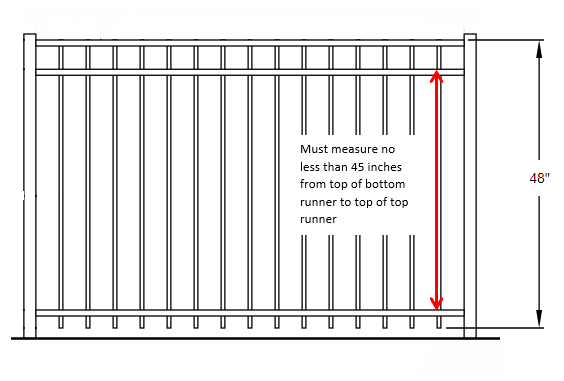 NOTE: All 48" ornamental fences, no matter the building material, are not approved. Circles, scrolls, crossbars, decorative runners, and cutouts make these fences possible to climb.
Paramount Fencing Offers Many Unique Pool Barriers
Then, check the space under your fence. Fences should have no more than a 2-inches between its bottom and the ground. Check your gates, pool code compliant gates swing out/away from the yard and have automatic close hinges with an automatic closing latch. The latch should be installed no lower than 54" on the gate.
If your fence meets these requirements, great! You are pool code compliant. Just be sure to Walk that fence line or pool screen and make sure you do not have any damaged planks or pickets. Look for gaps more significant than two inches below the fence, or a space wider than four inches, the minimum amount of space a small child needs to squeeze through.
My fence doesn't meet these requirements, what now?
If your fence does not meet these requirements, it is very possible that it will need replacement. Failure to erect a safety barrier or enact other approved safety devices is a second-degree misdemeanor under Florida law. However, if the property owner attends a drowning prevention program and complies with the act's requirements within 45 days, the state drops charges.
So how can the homeowner protect themselves in this situation?
First, if you're having a pool installed, your pool company should be able to provide all the information needed. If they do not mention barriers, or don't know the barrier requirements, that is a red flag. A freshly installed pool will not pass inspection without a proper to-code pool barrier. Any fence company you speak with should know the current building code for your municipality.
Ask yourself, what do you see for the future? Do you really need a 48-inch fence, or can you add the extra six inches to hit the height requirement? Do you ever have plans to install a pool or a hot tub? Even an above ground pool is subject to these barrier requirements.
Are you looking to purchase a new home? This is something to look for when shopping around. The average homeowner will pay about $35,000.00 for an in-ground pool installation. Replacing a fence can add another $4-8,000 to your project depending on footage and building material. Or, if you don't want to replace the fence, you could always spend $20,000.00 on a screen enclosure, or ruin the aesthetic of your new pool with a screen barrier.
If you find yourself stuck in this situation, give Paramount a call. We will work with you to find a fence that fits your unique needs as well as pool barrier requirements.
TO SCHEDULE A FREE ESTIMATE CALL! (407) 341-2720 Family Owned & Operated Since 2003 Veteran Owned and Operated.